Collective Worship
Welcome to our school year 2017/2018

Learning together with God
We are a Catholic school. The Chapel is at the heart of our school in a spiritual sense. We try to encourage in our pupils a sense of their spiritual relationship with God which informs their daily lives.
We meet as a whole school every Monday, Tuesday and Friday to pray and sing hymns together, to celebrate and share in each others successes; to offer the new day to God.
Our pupils and staff all contribute to the life and worship of our school in a variety of ways; serving, reading, Eucharistic ministry for the whole school Masses. Class and House Masses are also celebrated, giving the children the opportunity for worship in a more informal setting. Pupils are encouraged to assist in planning and leading these services.
In both whole school Collective Worship and House assemblies,children often prepare and lead worship. In Years 5 & 6, the school Chaplaincy Team will take on this role. This can also include, reflecting on the life of a saint whose feast day the church is celebrating to a dramatic presentation of the teachings of the prophets. Staff too across the curriculum lead whole school prayers and collective worship, demonstrating the rich traditions and styles present in the St Patrick's community.

_________________________________
Collective Worship in the Oasis Room
The message of this weeks Gospel was to have hope and faith in Jesus, just like the apostles did. They believed him because he had fulfilled his promise to come back to them. We should trust him too.
-Year 5
Collective Worship in the sun
Taking advantage of the fine weather, classes have been holding their collective worship outside in our outdoor areas. Year 5 have been to the gazebo and in the centre of the field. Reception class have used their outdoor play area and Year 3 have used many parts of our field. Our children recognise that we can worship God in all places.
Year 5 Collective Worship
"The vine needs water to grow, Jesus is the water and we are the vine. We need him to grow" - Year 5
Friendship
Friendship is our value this term. Before hymn practice, Year 5 Chaplains invited children at collective worship to reflect and think about what makes a good friend. The message of today's scripture was that Jesus was a good friend to his apostles and disciples. He promised to send them the Holy Spirit so they would have guidance.
"Jesus is a good friend, he says we should be nice to one another"
- Year 2 child
3rd Sunday of Easter
As we settled back into our first week of Term 5, our Chaplaincy Team reminded us of the present liturgical season of Easter, by celebrating a collective worship on the story of the resurrection. Year 5 Chaplains wrote their own witness statements to the resurrection and how it changed their lives.
Belief in the resurrection is the cornerstone of our faith, it is the greatest thing Jesus did. He showed us that with God anything is possible.
- Year 5 Pupil
Year 5 & 6 Class Mass
Thank you to Fr Stan for celebrating our Year 5 & 6 class mass on Wednesday 28th February. Thank you to all children who participated in this special mass, which took place in our school hall.
Class Mass at St Patrick's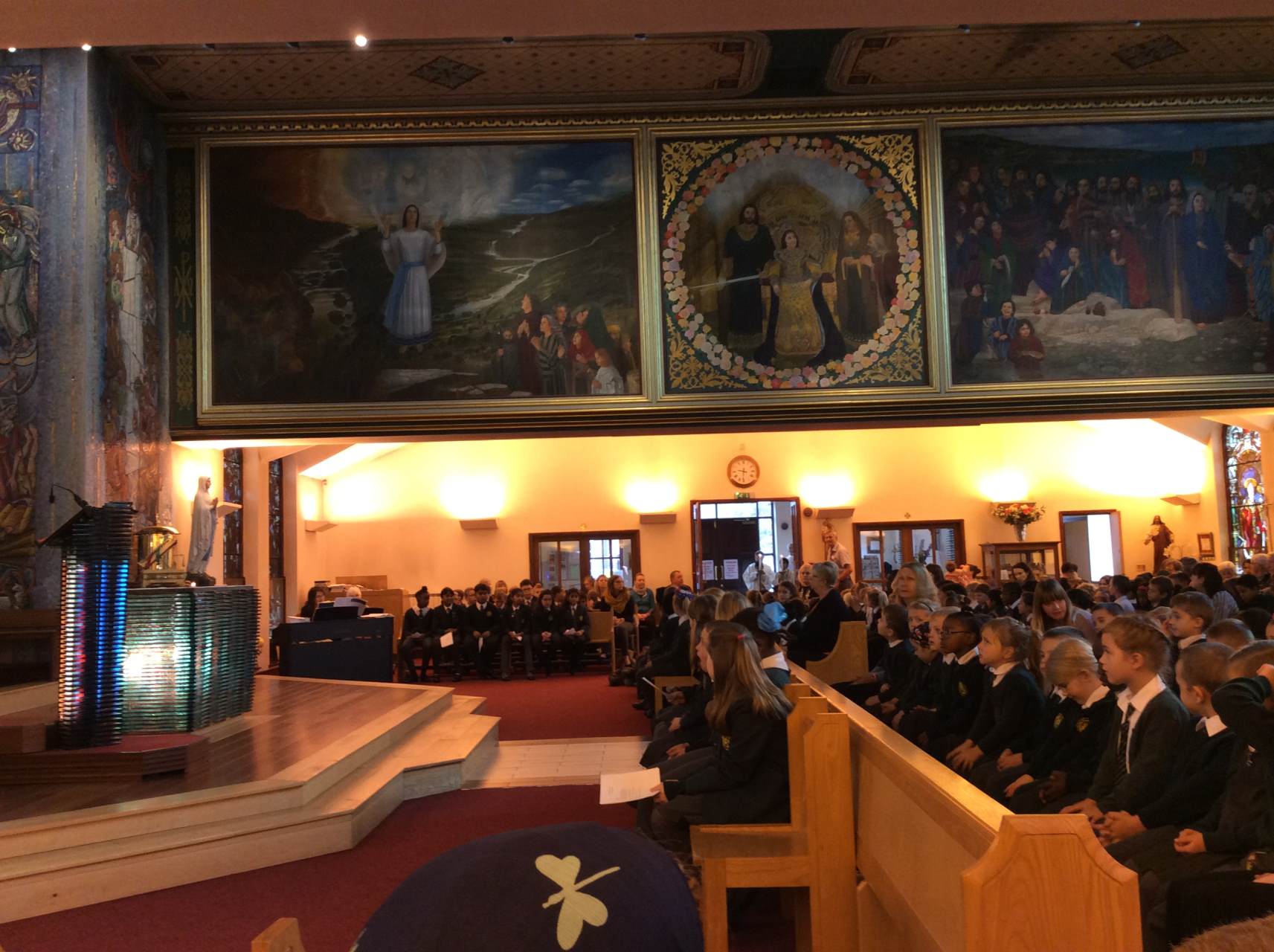 '

When we participate at mass, we are trying to show our love to God and try our best' - Julia Year 5 Mass Reader
Photos
Fifth Sunday in Ordinary Time
On the 29th of January, Year 5 and Ms Young hosted our Collective Worship. We heard the Gospel according to Mark, where Jesus heals the sick. This parable is particularly relevant to our learning as Year 1 and Year 5 are learning the about Parables and the deeper meaning within them.
St Francis Class Nativity Concert
On Thursday, we were treated to a very special collective worship, hosted by Reception class. They performed for us the story of the Nativity. They were amazing :)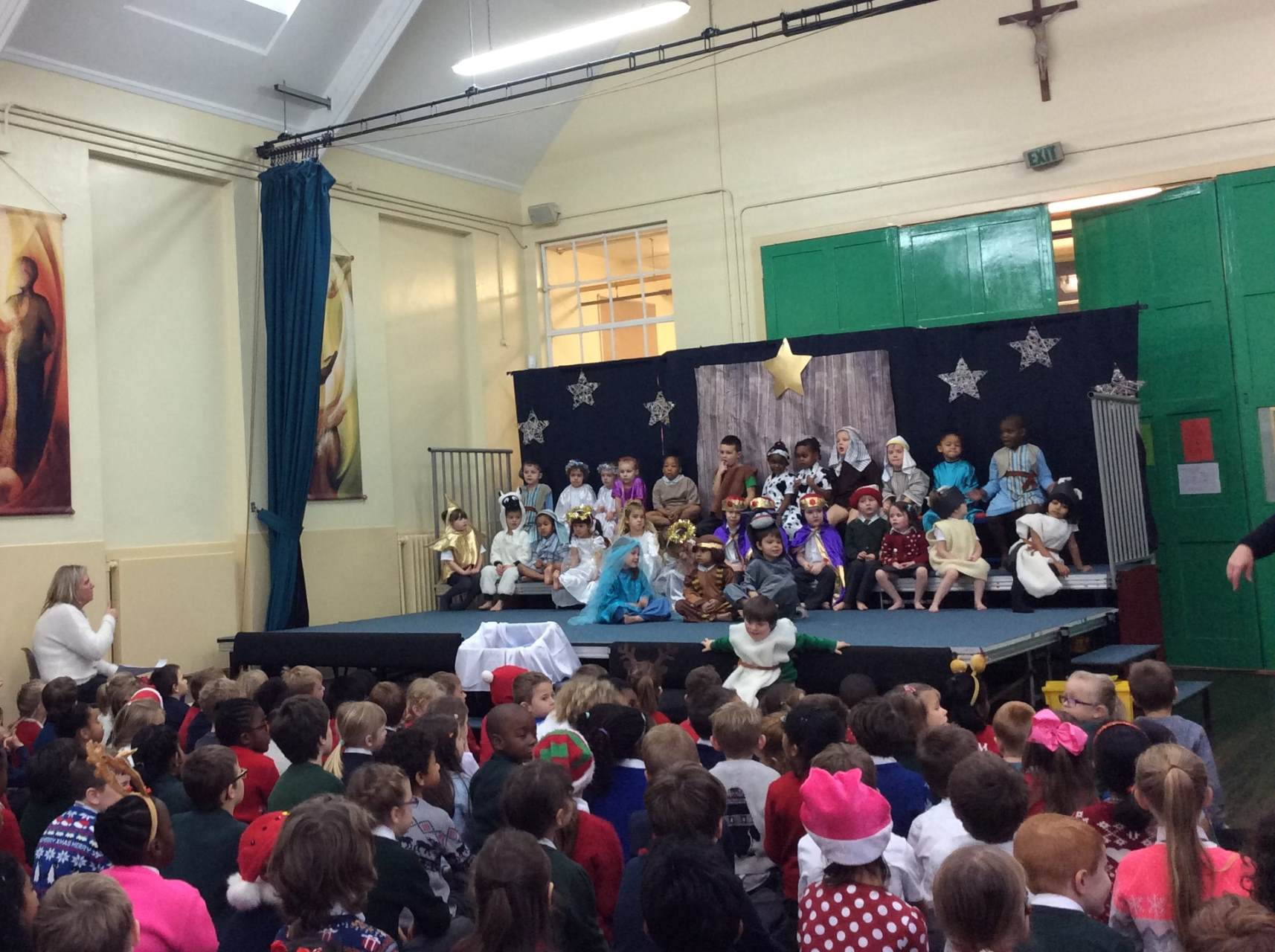 Our Advent Wreath
________________________________________________
Collective Worship: Monday 4th December
Second Sunday of Advent
This weeks Collective Worship reminds us of the message of John the Baptist. Mark 1:1-8 tells us that John was preparing people for the coming of Jesus. We are reminded to seek forgiveness for our sins, to be kind, caring and generous this Advent season, and to remember those less fortunate than ourselves. We are called to live out God's message and to actively live out our Christian values.
Year 5 Chaplaincy Team hosted today's Collective Worship.
________________________________________________
Collective Worship: Tuesday 7th November
In today's Gospel from Matthew 25 : 1-13 we listened to the parable of The Ten Bridesmaids.
Then the Kingdom of Heaven will be like ten bridesmaidsa]">[a] who took their lamps and went to meet the bridegroom. 2

Five of them were foolish, and five were wise.

3

The five who were foolish didn't take enough olive oil for their lamps,

4

but the other five were wise enough to take along extra oil.

5

When the bridegroom was delayed, they all became drowsy and fell asleep.
6

"At midnight they were roused by the shout, 'Look, the bridegroom is coming! Come out and meet him!'
7

"All the bridesmaids got up and prepared their lamps.

8

Then the five foolish ones asked the others, 'Please give us some of your oil because our lamps are going out.'
9

"But the others replied, 'We don't have enough for all of us. Go to a shop and buy some for yourselves.'
10

"But while they were gone to buy oil, the bridegroom came. Then those who were ready went in with him to the marriage feast, and the door was locked.

11

Later, when the other five bridesmaids returned, they stood outside, calling, 'Lord! Lord! Open the door for us!'
12

"But he called back, 'Believe me, I don't know you!'
13

"So you, too, must keep watch! For you do not know the day or hour of my return.
Special thanks to our wonderful volunteers from across the school who participated in our role play :)
_________________________________________________________
All Saints Day
The staff, pupils and parishioners of St Patrick's Parish came together to celebrate the feast day of All Saints, on Wednesday November 1st. The mass was written by the Year 5 & 6 Chaplaincy Team, who also participated in the readings, hymns and offertory.
________________________________________________
Collective Worship: Tuesday 11th October
Our Chaplaincy Team led today's worship. The Gospel was according to St Luke and it's message was about the importance of listening to people.
Our Chaplaincy team composed a Litany.
Our response was:
We are listening to Jesus.
When our friends ask us to help them...
When our parents ask us to do something for them and we do it...
When our brothers and sisters want to spend time with us and we do it...
When we listen to the Bible and try to understand...
When we say our prayers when we would rather carry on playing...
When we listen to our conscience helping us choose the right thing to do...
We are listening to Jesus.
___________________________________________________________________________
Collective Worship: Monday 2nd October
Lord, open our ears and hearts, so we may hear and understand the message of your Gospel, Alleluia.
___________________________________________________________________________
Collective Worship: Monday 11th September
Jeremiah 1:5
"Before I formed you in the womb I knew you,
before you were born I set you apart;"
Our Mission Statement affirms our belief, that as people of God, we are all unique and deserve the opportunity to achieve our full potential.
____________________________________________________________________________
Our Spiritual life 2016/2017
Welcome back to our new school year 2016/2017. Each week we will be posting photographs of our Collective Worship as we celebrate 'Learning Together with God' and living out our Christian values.
Tuesday 6th September 2016
Tuesday 13th September 2016
Tuesday 27th September 2016
This week our Collective Worship celebration focused on a reading from The Letter of St. Paul to the Ephesians. In this reading we are reminded of our call to be followers of Christ and to put our hope in him.
Tuesday 4th October 2016
This week we celebrated the feast day of St Francis of Assisi. St Francis is the Patron Saint of our Reception Class. In our Collective Worship today, we learned about viewpoints - of seeing the glass half full, or half empty. The message of our Collective Worship was to have hope.
Tuesday 11th October 2016
The message of this weeks Gospel was 'doing things in good grace'. The message encourages our children to have good intentions and love in their hears when making a decision or doing an action.
Tuesday 18th October 2016
'Blessed be the Lord who is my rock'. Today's collective worship was a lovely way to end our term focus on the value of hope. We were reminded that God is always with us, caring for us, guiding us and protecting us on our journey through life.
Term 2
Tuesday 1st November 2016
On Tuesday the 1st of November, the staff and children of our school attended a whole school mass in honour of All Saints' Day. The day is dedicated to the saints of the Church.
Our children sang beautifully at the mass which was attended by many of our parents and fellow parishioners. Our children were busy on their first day of term with hymn practice.
Tuesday 8th November 2016
Gentleness is our focus value for Term 2. Our collective worship today reminded children of the importance of understanding in when we are trying to do something. We discussed our understanding of gentleness. We were reminded of Mary as a model of gentleness and how often if we are unsure of our understanding that we use a model. Mary reminds us of the value of gentleness in The Wedding at Cana, when she brings a problem to Jesus and patiently waits for his help.
"Even the greatest strength and power cannot overcome gentleness. Gentleness can overcome anything" - Grace Year 6.
Tuesday 15th November 2016
'I will sing to the Lord my God'
I'm going to sing, sing, sing,
I'm going to dance, dance, dance,
I'm going to sing, I'm going to dance,
Allelu
When the gates are open wide,
I'll be standing by your side,
When the gates are open wide,
I'll be standing by your side,
I'm going to sing, I'm going to dance,
Allelu
Hymn Practice
Tuesday 22nd November 2016
We are preparing ourselves for Advent. Advent is a special time when we get ready for the coming of Jesus. The word advent comes from the Latin word venio, which means come. It is very exciting when we know that someone is coming to visit us. We make sure that we are ready when they come. In today's collective worship, we thought about how we get ready to welcome visitors, and how we get ready to welcome Jesus. Advent is a time of preparation. We need to prepare ourselves to celebrate this great event.
Year 3/4 celebrated their first class mass on Wednesday. They too choose the theme of preparation for their celebration. The theme of preparation and hospitality is strongly reflected in our bidding prayers:
We pray for all people around the world who are alone or frightened or have had to leave their homes because of fighting: that they may be welcomed by others and may see their families again. Lord, in your mercy…
We pray for people who are travelling to visit others or who have a long or difficult journey ahead: that they may arrive safely and may receive a warm welcome. Lord, in your mercy…
We pray for our parish, families and friends: that we may always be welcoming to others and that we may share what we have with those who are in need. Lord, in your mercy…
Generous God, we give thanks for all those people who have visited us, or whom we have visited. Help us always to welcome the people we meet in life, no matter who they are or where they come from. Lord, in your mercy...
God asks us to be ready so that we can welcome Jesus when he comes. Together we ask for Mary our Mothers help. Hail Mary….
Tuesday 29th November 2016
A reading from the Prophet of Isaiah. In this weeks collective worship, we hard how Isaiah is looking forward to a time when the peace of Jesus will influence the whole world. In our world today there are many people who do not live in peace and so today, as we began our Advent journey, we prayed for them.
Monday 5th December 2016
Light up a Life Assembly
'A dedication of friendship and remembrance'
Family and friends of our school and parish are invited to dedicate a Christmas bauble and place it on our Christmas tree. At Christmas we remember family and friends who have passed away and are with Jesus in heaven. The baubles are a reminder that they still shine in our lives.
We remember our loved ones with joy.
Lord,
We offer our prayers for all who are lonely or grieving at this time of Christmas. May their hearts be filled with peace and joy.
Amen
Tuesday 6th December 2016
John: 33-36
In today's Gospel, Jesus says what he has to tell us is very important. Now days, we know this is true because one of the most important things Jesus taught us was to love one another and take care of each other. We are reminded that it is up to us to keep his message alive in the world today. We can do this by living out our Christian values.
Term 3
Tuesday 3rd & Tuesday 10th January 2107
A very warm welcome back to all at St Patrick's. We wish you a peaceful and blessed 2017. We are starting Term 3 with a focus on Peace and Forgiveness.
Tuesday 17th January 2017
This term we are combining our music lessons, hymn practice and collective worship. Each week we will be listening to a different instrument family. This week we heard music created by string instruments. We are very blessed to have many talented people at St Patrick's. Among them are one of our students Sophia and her father. They very kindly came to play for us today.
Tuesday 24th January 2017
The secret of happiness is to have:
Faith
Kindness
Gentleness
Forgiveness
Tuesday 31st January 2017
Jesus said, "I am the way, the truth and the life." John 14: 6
Today, we heard Charlotte play the clarionet as we came into the hall for Collective Worship.
Term 4
This term our focus is on the value of
Responsibility
Collective Worship takes place each week on Mondays for the whole school. KS2 have worship together in the hall before hymn practice on Tuesdays and in class on Thursdays. Chaplaincy team have been busy this term preparing each Tuesday session.
Term 5
Our focus values this term are
Forgiveness & Peace
May Procession
17th May 2017
Bring flowers of the rarest

bring blossoms the fairest,

from garden and woodland and hillside and dale;

our full hearts are swelling,

our glad voices telling

the praise of the loveliest flower of the vale!
O Mary! we crown thee with blossoms today,

Queen of the Angels, Queen of the May,

O Mary! we crown thee with blossoms today,

Queen of the Angels, Queen of the May.
Outdoor Collective Worship
To help us celebrate International Outdoor Classroom Day, Year 6, 5 and 3 chaplains hosted a special collective worship in our garden, celebrating the glory of God's creation. They also highlighted the important work of Wateraid and spoke about supporting our upcoming charity event for the same cause.
Collective Worship Gallery - Term 1, 2, 3, 4, 5